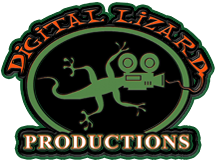 Since its inception in 2007, Digital Lizard Productions has seen extensive growth. What started as an independent venture has flourished into an esteemed production company that specializes in digital media productions and promotions.

Digital Lizard Productions' web presence is bold, unique, and undeniable.

Since 2010 DigitalLizardProductions.com has earned over 4.3 million page views by providing free full length films, regular web shows and specials, topical blogs, music performances, and more.

Digital Lizard Productions' free video content has generated over 500,000 views via various platforms. The company's most recent release, sketch comedy special "Unpaid Programming", generated over 250,000 views through YouTube.com and Blip.tv. Select projects of Digital Lizard Productions are listed on the Internet Movie Database (imdb.com) and can be purchased on DVD on Amazon.com.

Digital Lizard Productions not only has a finger on the pulse of today's most trailblazing entertainment, but the company boasts the innovations of tomorrow.



Michael Goodpaster [Mikey MiGo]
[Executive Producer/Director/Writer/Editor]
Contact: mgoodpaster @ DigitalLizardProductions.com

If you have any questions, comments, or feedback on production
Contact: production @ DigitalLizardProductions.com

If you have any questions about your online order
Contact: order @ DigitalLizardProductions.com

For all press
Contact: press @ DigitalLizardProductions.com



IMDB
FACEBOOK
TWITTER