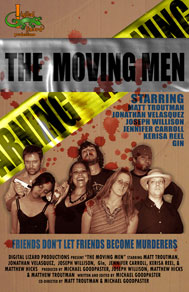 Click to Enlarge

Starring:
Matthew Troutman
Jonathan Velasquez
Joseph Willison
Jennifer Carroll
Kerisa Reel
GIn
Matthew Hicks

Written and Edited by:
Michael Goodpaster

Co-Directed By:
Michael Goodpaster & Matthew Troutman

Release:
December 2007



Friends Don't Let Friends Become Murderers.


Synopsis:
Everything is normal for the three friends until they find themselves in a very vicious cycle of outlandish deaths such as a girl choking to death while blowing up condom after an argument about party favors and a girl plummeting to her death from a motel balcony in the midst of drunken sex. So from bad to worse, worse to worst, the three friends continue to cover their tracks as much as they can and keep moving.